It's In the Details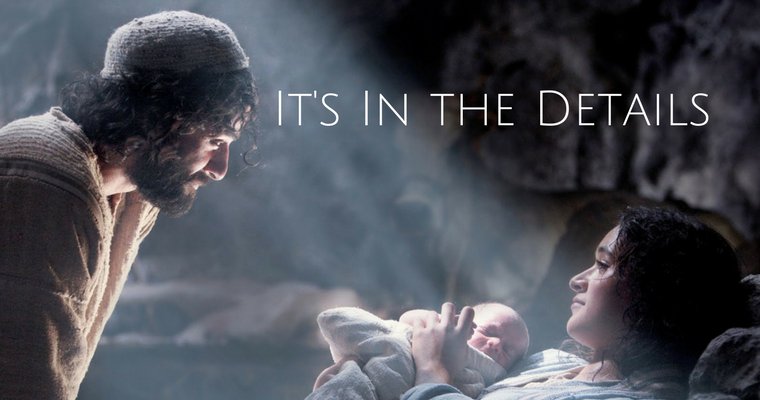 This message was delivered to the congregation at Vonore United Methodist Church on Sunday, December 31, 2017. The service also included Wesley's Covenant Renewal Service. 
Message: It's In the Details
May the words of my mouth and the meditations of our hearts be pleasing unto you, oh Lord, our Rock and Redeemer.
Before we begin, I want to talk a moment about Christmas.
You all know the one: We just rushed into and through it. We just uttered a silent prayer of thanksgiving for having survived it. Some of us – no names mentioned – are possibly still going to be paying for it next Christmas.
But that's not the Christmas I'm referring to, although I'd hazard a guess that's the one we pay the most attention to and are the most likely to think about.
No, I mean the real Christmas. Not the short form we share on Christmas Eve, either.  I mean the long story of Christmas, all those details we tend to skip over because pastors only have 20 minutes to deliver their message or the kids won't sit still for longer than a few verses from Luke or Matthew, especially with all those presents waiting for them under that tree.
I worry that we may be failing to see important parts of God's plan in all this that are hidden in those details. So much of it's in the details.  Let me explain.
Alana Levandoski wrote a song sung through the eyes of the innkeeper that turned Mary and Joseph away. In it, she sings, "What am I to say? What have I to prove now that I missed it? It was right in front of me and I told it to move on. There was no room. I saw the silence of the poor. I saw what they were after … we all do. I had a business to run. I had a plan I was to master. We all do."
I worry that we are too often guilty of becoming like the innkeeper Levandoski describes. That our
busy-ness
and
our
"plans" stop us from seeing the details in
God's
amazing plan He laid out 2,000 years ago, a plan that continued to repeat throughout Christ's life and ministry, a plan Christ called
us
to carry out on his behalf throughout
our
lives, a plan and a path hidden in the details of Christmas.
God … all-powerful, almighty, Creator of the earth, sky and universe God who could have … with a mere thought … manifested Himself on earth in any way or manner or under any circumstances He wanted … that God … intentionally chose to arrive as a tiny, fragile, vulnerable infant that, for at least a few years, would be 100% reliant on a woman … a very young woman … a teenaged girl … who, had Joseph turned God down, would most likely have been stoned to death for being pregnant and unwed.
God intentionally chose to come into the world through a bloodline that had been reduced over time to little more than a religious minority living under the rule and at the mercy of an empire that oppressed them for their refusal to follow the religious beliefs the empire declared were the law of the land.
God knew then just as He knows now everything that was going to happen, yet God intentionally chose to enter our world from within a family that was, by order of the empire, forced to leave the home they knew, Joseph's job, Mary's family, and return to the place where Joseph was born.
God intentionally chose a family that God knew would soon be forced to flee for their lives, to become refugees, because the leader of the empire feared the Christ-child so much, he ordered all children two and younger to be killed.
God intentionally chose to notify only a handful of poor farm workers tending sheep in the hills and a few foreigners hundreds of miles away about the birth of the King of kings, Lord of Lord, Prince of Peace … no one else, not the masses, not the powers and principalities, not the world.
God intentionally chose to enter humanity in the lowliest of circumstances … in a stable, a room meant for keeping animals with only his mother and Joseph present for his birth, and to be laid in a manger normally used for holding hay and grain for livestock.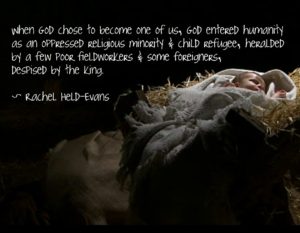 Think, for a moment, about God's very intentional choices in modern-day terms – that he came into the world through a family being deported back to the father's birthplace, a family that was now homeless and that would soon become refugees fleeing for their lives from a vindictive, power-hungry government leader, a family that was oppressed for following a religion the government didn't like or approve of or condone, and that no one knew of his arrival but low-wage workers and what were, at that time, foreign scientists.
Remember what Simeon foretold to Mary and Joseph that day in the temple:
"This boy is assigned to be the cause of the falling and rising of many in Israel and to be a sign that generates opposition so that the inner thoughts of many will be revealed."
When Simeon spoke of Israel, he wasn't referring to the modern-day nation-state fighting over Jerusalem. He was talking about a group of people that all believed in and worshiped God, only God.
Ladies and gentlemen, Sisters and Brothers, we are a part of what has grown into the modern "Israel" Simeon spoke of and, as such, we must think about whether we will be counted among those that fall or those that rise. We must critically examine our innermost thoughts as well as our words, deeds, and actions. While we are, indeed, saved by grace and although grace is a freely given gift from God delivered through our faith, our belief in God, while we are redeemed by God's sacrifice of Christ on our behalf, that isn't the end of our story or Christ's.  It's just the beginning, we have this one life, this one chance to get it right, and we need to pay attention to those details.
Christ called those that believe in him to follow him, to be his hands, his feet, to carry on his work and his ministry, a ministry that was definitely not limited to the seven days of Holy Week and dying for us on the cross!
This morning as we join together in the Covenant Renewal, think on these things. As Howard Thurman, an African-American author, philosopher, theologian, and educator, wrote:
When the song of the angels is stilled,
When the star in the sky is gone,
When the kings and princes are gone home,
When the shepherds are back with their flocks,
Then the work of Christmas begins:
To find the lost,
To heal the broken,
To feed the hungry,
To release the prisoner,
To rebuild the nations,
To bring peace among people,
To make music in the heart.
Christ's life, his ministry, established the work of Christmas that needs to be done and set out the manner in which we are to do that work.
Lord, I pray, that if we are doing that work, we continue, and if we are not doing that work, if we, like the innkeeper, have missed the details, that we acknowledge our mistake and work to do better from now on, for there is still much work to be done.
And all God's children said, Amen.
Benediction:
Rather than close with a benediction today, I'd like to close with a tribute to the passing of 2017, to bless the new year and, in doing so, bless all of you. This poem, titled Ring Out, Wild Bells, was written by Alfred Lord Tennyson in the 1800s (and has been set to music by Alana Levandoski). I imagine the year he was bidding goodbye was probably much like this one has been.
Ring out, wild bells, to the wild sky,
The flying cloud, the frosty light:
The year is dying in the night;
Ring out, wild bells, and let him die.
Ring out the old, ring in the new,
Ring, happy bells, across the snow:
The year is going, let him go;
Ring out the false, ring in the true.
Ring out the grief that saps the mind
For those that here we see no more;
Ring out the feud of rich and poor,
Ring in redress to all mankind.
Ring out a slowly dying cause,
And ancient forms of party strife;
Ring in the nobler modes of life,
With sweeter manners, purer laws.
Ring out the want, the care, the sin,
The faithless coldness of the times;
Ring out, ring out my mournful rhymes
But ring the fuller minstrel in.
Ring out false pride in place and blood,
The civic slander and the spite;
Ring in the love of truth and right,
Ring in the common love of good.
Ring out old shapes of foul disease;
Ring out the narrowing lust of gold;
Ring out the thousand wars of old,
Ring in the thousand years of peace.
Ring in the valiant man and free,
The larger heart, the kindlier hand;
Ring out the darkness of the land,
Ring in the Christ that is to be.
Credit for the inspiration behind this message goes to
Alana Levandoski
,
Rachel Held-Evans
, and
Rev. Roger Cary
.
---