Hello? Is It Me You're Looking For?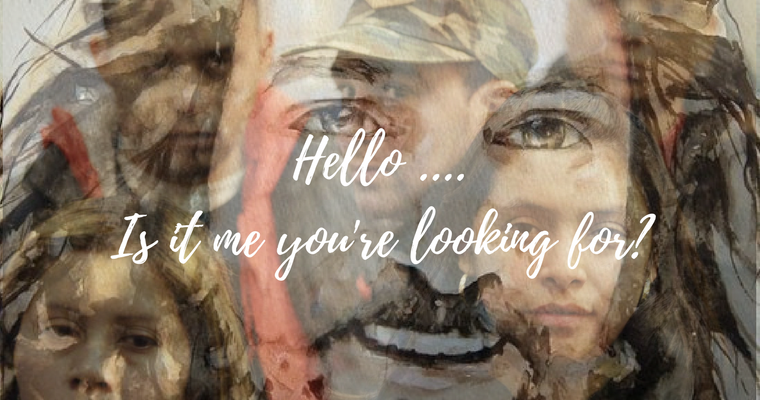 The world is wonkers, and it's filled us with doubt, frustration, suspicion, fear, anger, judgment, assumption, and self. Yes … self.  We're looking at the world from a position as center of the worldly universe. What's in it for me? What's it going to cost me? How's it going to help me? Me, me, me.
That is the prime motivator of the Us vs Them politics and policies going on around the world.  Just think about it.  The guy sitting in the Oval Office sold himself into that seat by feeding doubt, fear, anger, frustration, suspicion, and telling us it was okay to put self first, put "America First".  Then along came a few prosperity gospel preachers and millionaire televangelists, and they said, "See! This is what we've been saying straight out of the scriptures for years now!"
Only it doesn't come straight from the scriptures, and it sure doesn't come from Christ. And Christ is where we fail on two points consistently, constantly, and unanimously … even the best among us:  We fail to see Christ, and we fail to be Christ.
It's probably bordering on sacrilege to relate this to a Lionel Richie love song, but it works.
I've been alone with you
Inside my mind
And in my dreams I've kissed your cheek*
A thousand times
I sometimes see you
Pass outside my door
Hello!
Is it me you're looking for?
How many times have people "passed our door", and we never really saw them? How many times have we looked at some imaginary object in another direction just to avoid seeing them? Crossed to the other side of the figurative street? Pretended to be so absorbed in a task, we "unintentionally" *cough* missed making eye contact or engaging with them? Didn't take time to converse with those who so clearly tried to engage with us?
I can see it in your eyes
I can see it in your smile
You're all I've ever wanted
And my arms are open wide
'cause you know just what to say
And you know just what to do
And I want to tell you so much
I love you
How many times have we asked ourselves why we did (or didn't do) those things? Doubt, frustration, suspicion, fear, anger, judgment, assumption, and self-absorption are the why, should we be so bold as to be honest about it.
I long to see the sunlight in your hair
And tell you time and time again
How much I care
Sometimes I feel my heart will overflow
Hello!
I've just got to let you know
Oh, we'll go purposefully looking for Jesus and God at least 55 minutes each week.  Yeah, buddy, for an average of 55 minutes once a week, we'll sit in church waiting for Jesus and/or God to manifest themselves in whoever is standing behind the pulpit.  Or, wait! Maybe we can find him at Sunday School, at one of our many church committee meetings, UMW meetings, United Methodist Men meetings.  No? Well, He'll definitely show up at the fellowship meal on Wednesday.  After all, we are a "Christian" church.
Some of us may go another route (translation: justify missing our 55 minutes once in awhile) by tuning in to one or more broadcasts of other local church services or various televangelists. We curl up on our couches, bibles or bible apps in hand, amen a little louder because there's no one to hear us and we like what they're saying, change the channel when we don't, and wait for the revelation of God or Jesus to come over the airwaves.
Cause I wonder where you are and I wonder what you do
Are you somewhere feeling lonely? Or is someone loving you?
Tell me how to win your heart, for I haven't got a clue
But let me start by saying I love you
To quote Bishop Willimon, "the location of these divine human meetings is rarely, and I can't tell you how much it pains me to say this, rarely at church." While we're ardently (some) or at least passively (others) looking in churches and to preachers to elevate us to that point in which we meet God or Jesus face to face, we're missing opportunity after opportunity after opportunity … right in front of us … every day.
In the face of a stranger. In the touch of a friend. In the voice of a child. In the cry of the wounded. In the tears of the grieving. In the garden, in street, in the alley, in the next cubicle at work … God, Jesus, the Spirit are all waiting for us to find and follow and be their hands and feet.  They're saying to us …
Hello
Is it me you're looking for?
Cause I wonder where you are and I wonder what you do
Are you somewhere feeling lonely? Or is someone loving you?
Tell me how to win your heart, for I haven't got a clue
But let me start by saying I love you …
Lionel's love song is a little off.  God, Jesus, the Spirit always know where we are, always know what we're doing, always know when we're lonely or hurting or happy or frightened or angry, always know if we're being loved – truly loved – and who it is that's truly loving us.  And they do have a clue – more than a clue – about winning our hearts.  It's not them that are waiting on signs and wonders.  They're just waiting on our hearts to invite them in, and for us to rise up and go looking for them in the world, to be their hands and feet, to build their kingdom here as it is in heaven.  And they're saying, "Let me start by saying I love you."
"This Can't Be Christ, Can It?" from Ministry Matters™. Bishop William Willimon (UMC)
---